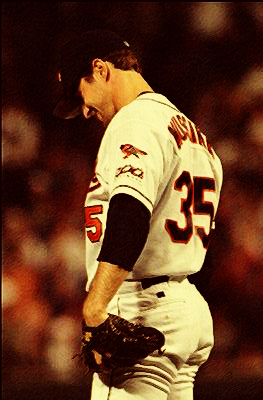 Mike Mussina with his pinpoint control and his softly wicked smile, standing on the mound like some sort of strange young king. . . . - [Bad username or site: candle_beck / @ livejournal.com]
Michael Cole "Moose" Mussina announced his retirement from major league baseball today. He was my first "boy" in MLB fandom. I think there's a good chance I never dip my toes into baseball if he doesn't catch my attention first, pitching really, really well, and losing close game after close game because of our spotty offense, and handling it all with a wry smile and a ready quip almost every time. With his ridiculous little bunny hop, and snakebitten ways, and odd habit of occasionally telling the media what he actually thought instead of just spewing cliches.
He was the first player I ever slashed. He was the first player I ever cried over (when he signed with the Yanks as a free agent)(again, when he lost his perfecto in 2001). He was the only player whose actual fanclub I ever joined. For years I carried one of his baseball cards in my wallet. Even for a while after he was with the Yanks, a card from his last year as an Oriole remained in my wallet. I got used to the sight of him in pinstripes pretty quickly, but he never looked as good in the NYY's home whites as he did in ours (I swear his eyes were not that puffy, nor his teeth so terrible, in orange and black). And it took a while, but eventually, hearing Yankee fans doing our MOOOOOOOOOOOSE call warmed my heart instead of raised hairs on my neck. He's the only player besides Cal Ripken and Eddie Murray that my mom can name.
I was pretty sure he'd retire after the '07 season, and I'm so, so glad he didn't. I'm glad he won his 20, finally. I'm glad I got a chance to see him pitch this past season. I've never paid so much for such crap seats ($20! to sit in the outfield! at Camden Yards?), but I'm glad now. He says he knew all along this would be his last year, and while I don't know if I believe him, I love that he's going out the way he wants to go out (twenty wins and a gold glove) and when he wants to go out. And even though he never won a ring or the Cy, he accomplished a lot in his career, and I love reading pieces
like this
, which are everywhere, delightfully, to remind everyone.
He was lovely, and amazing, so very funny, and a lot of fun to be a fan of. Cheers, Moose. I know you've said for years that when you retire, you just want to spend time with your kids and coach at Montoursville High, but please come back now and then and be a not-sucky guest commentator for the MLB Network. Otherwise, I'm really gonna miss you. You were my favorite for a long, long time.